Posted January 7, 2012.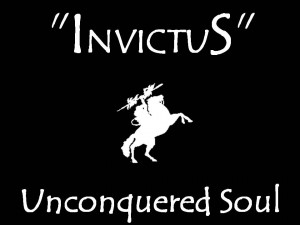 At the tender age of 12, William Ernest Henley contracted tuberculosis of the bone. A few years later, the disease progressed to his foot, and physicians announced that the only way to save his life was to amputate directly below the knee. It was finally amputated when he was 17. Stoicism inspired him to write this poem. Despite his disability, he survived with one foot intact and led an active life until his death at the age of 53, which was probably considered old age at that time.
Invictus and Lyme Symptoms…..
Out of the night that covers me,

Black as the pit from pole to pole,

I thank whatever gods may be

For my unconquerable soul.
In the fell clutch of circumstance

I have not winced nor cried aloud.

Under the bludgeonings of chance

My head is bloody, but unbowed.
Beyond this place of wrath and tears

Looms but the Horror of the shade
,
And yet the menace of the years

Finds and shall find me unafraid.
It matters not how strait the gate,

How charged with punishments the scroll,

I am the master of my fate
I am the captain of my soul.
The only thing I would add is the Colorado State Motto: Nil sine numine
I couldn't have stayed so strong when I was so sick without God.  I know Lyme disease and Lyme symptoms are tough.  But it was stories and poems like this that kept me inspired to go all the way to the finish line of 100% Recovery. No matter how long it takes you to recover from Lyme disease and all Lyme symptoms, BeRelentless like he was!